Coffee, Please! - A First Person Coffee Shop Sim
No more ghosts! (0.2.5.5)
---
I started making the game a little bit more presentable and will focus more on explaining the basics of the game to give new players an easier start in the game. The game has many different areas that require improvement, but I can only work at one thing at a time. Having our little QA team helps me fix bugs much faster! A bunch of changes that are not listed include systems to make everything run a bit smoother in the background and easier for me to maintain.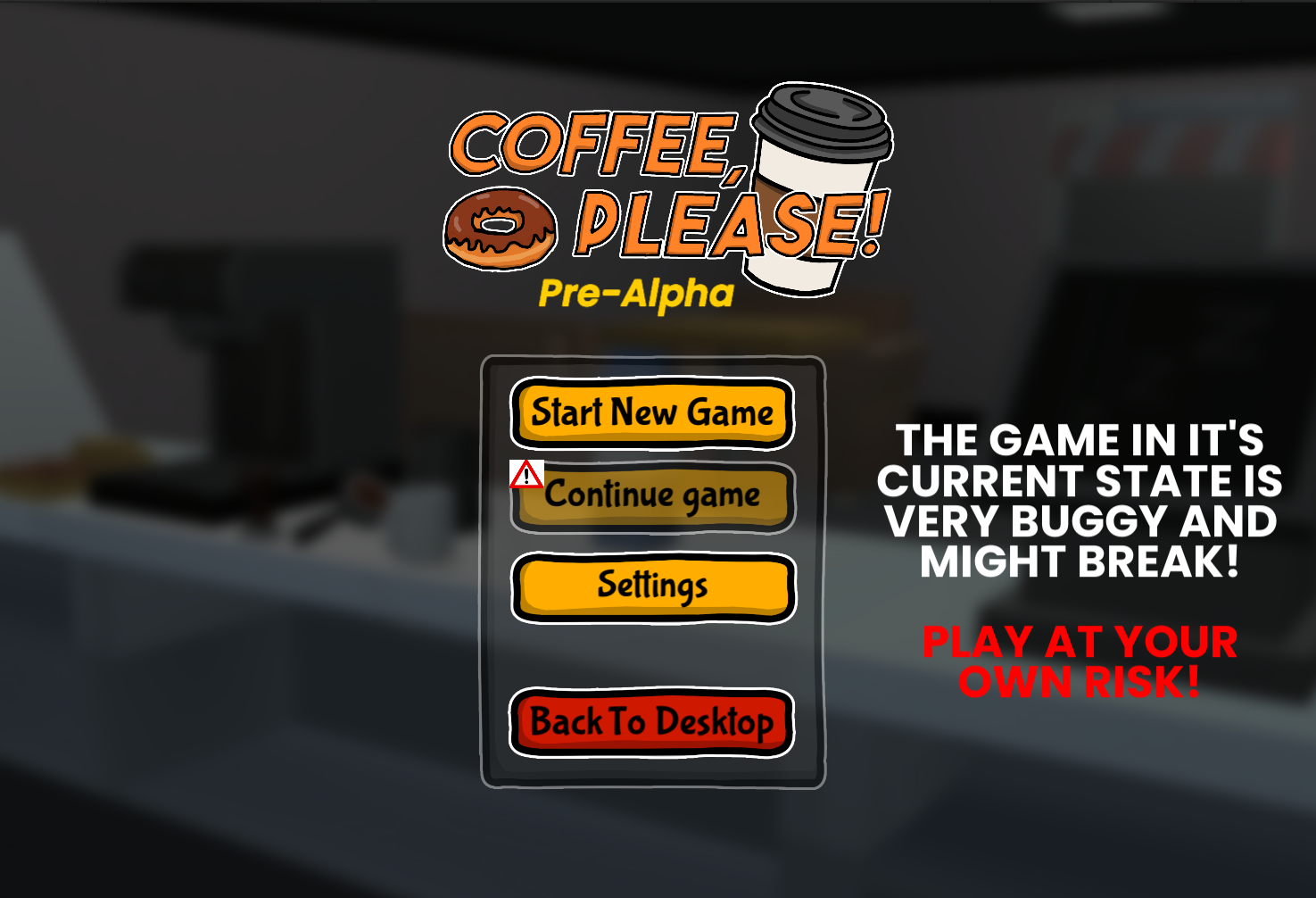 Added Events Panel to Day Over screen, which will inform the player, rather than a previous fullscreen overlay
Started the UI revamp (Computer Sub-Menus are still in their original shape)
Customers: Customers will now avoid furniture to reach their destinations instead of walking through it
Furniture: Several items can now be placed on the counter and floor (I don't know why you'd want to put the trash on the counter, but hey ...)
Bugfix: Faucet now behaves properly and makes proper faucet sounds. Good faucet!
Bugfix: Reprieve for your ears! All audio now pauses when the game is paused.
Bugfix: Back of fridge now has a collider, the door is still magical though.
Bugfix: Coffee Machine Filter won't dominate your camera anymore if you stand in front of it
Bugfix: Rug / Floormat should not behave like it's possessed anymore
Bugfix: Chairs can now be placed close to tables without them being getting locked
Bugfix: Several items would destroy immediately after unpacking them
Bugfix: Food items don't magically follow the customer, in case you steal them
Bugfix: Picking up the fridge and looking at ceiling does not cause the camera to go crazy
Current known issues:
The savegame feature can behave a little unpredictable and I will have to give it a good hard talking to.
Files
Coffee, Please! Windows (Pre-Alpha - Newest version)
133 MB
Get Coffee, Please! - A First Person Coffee Shop Sim